Description
The dry forest of the Peruvian coast is a unique ecosystem and rich in biodiversity. It harbours important species such as Prosopis sp. (known as Huarango or Algarrobo trees) that capture water, help to prevent desertification, provide food for people and livestock and are habitats for many unique and endangered birds, mammals and reptiles. With less than 2% remaining, it is also one of the world's most highly threatened ecosystems, making this forest a global conservation priority.
A Rocha Peru is working with low-income farmers and community members to reforest this threatened landscape. Local people are trained to restore and sustainably manage the dry forest in ways that boost their income and conserve the habitat.
Native trees, predominantly Algarrobo, are being planted with a water-absorbing gel applied at the roots. This allows tree seedlings and saplings to better retain the limited water in the soil, increasing their survival rate to 95%. The gel is non-toxic and biodegrades over time.
What do you get?
Following checkout you will receive the links to download two versions of the e-card (one formatted for emailing, one for printing at home). For a printed gift card mailed either to you or the gift recipient, please choose the appropriate shipping option from your basket or checkout page. You can personalize it with a message in the shop checkout.
Delivery within the UK is free, but you may like to add an optional contribution to help us cover our costs. International delivery charges apply.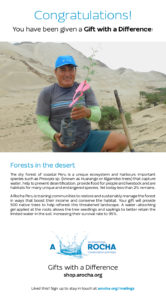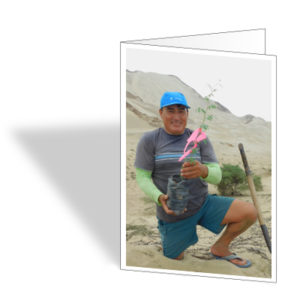 How your money will be spent