Description
Coral bleaching is one of the biggest threats facing reefs today, including those in Watamu Marine National Park, next to A Rocha Kenya's field study centre.
During abnormally hot conditions, corals expel the microscopic algae (zooxanthellae) living in their tissues causing the brightly coloured corals to turn bone white. Without the algae, the corals also lose their main food source, become more susceptible to disease and may eventually die.
Bleaching events are not new in Kenya, with the last severe occurrence in 1998. But high survival rates following bleaching in 2013 and 2016 give us hope that Watamu's corals may be adapting to cope better with heat stress.
In 2020, coral bleaching threatened the reefs again. So A Rocha Kenya's marine team worked with Kenya Wildlife Service, using permanent quadrats (randomly selected one-metre square samples of habitat) to photograph the same patches throughout the bleaching event. Some corals died, but many survived, despite the thermal stress being hotter than 1998. We aim to continue monitoring these quadrats twice a year to understand whether these reefs can survive the frequency of bleaching we've been seeing, and how it will affect other marine life and the local people who rely on the corals for fishing and tourism. By better understanding the relationship between hot weather and the bleaching response of corals, we can produce appropriate management recommendations to protect the reefs in the future.
What do you get?
When you purchase a coral care package you will be sent an ID for your patch of reef and a web link to see the latest photograph. New quadrats will be taken every six months, so you can check back any time to see how the coral in your patch is doing.
Following checkout you will also receive the links to download two versions of the e-card (one formatted for emailing, one for printing at home). For a printed gift card mailed either to you or the gift recipient, please choose the appropriate shipping option from your basket or checkout page. You can personalize it with a message in the shop checkout.
Delivery within the UK is free, but you may like to add an optional contribution to help us cover our costs. International delivery charges apply.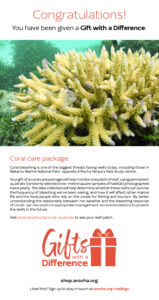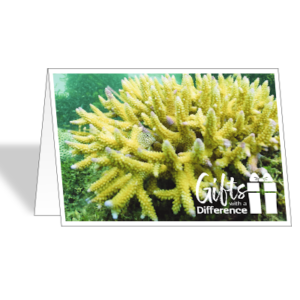 How your money will be spent