Description
West Bugwe Central Forest Reserve is a 3,100-hectare (7,660 acre) forest in Busia district, eastern Uganda. It is one of only three natural forests remaining in the Eastern region and 2,410 hectares have been designated as a Strict Nature Reserve (SNR) by the National Forestry Authority. In 2017, the World Conservation Society recognized West Bugwe as an 'irreplaceable site' in Uganda, important in particular for national threatened species.
Despite this, sections of the forest have been heavily deforested for charcoal burning, fuelwood collection and eucalyptus plantations, and invasive species such as Paper Mulberry and Lantana camara are spreading in continuously cleared areas.
Under a partnership agreement with the National Forest Authority, A Rocha Uganda has been invited to work in West Bugwe to increase forest cover and biodiversity and support the livelihoods of people who live nearby. Through environmental education and the introduction of sustainable livelihood strategies such as: beekeeping, earth-friendly farming practices and energy saving technologies, local people are learning about the value of the forest and how to help take care of it. Sites cleared for charcoal burning are being replanted with native species, and invasive plants are being progressively replaced to restore the natural biodiversity of the forest.
By 2025, A Rocha Uganda aims to plant 20 hectares (50 acres) with 22,500 native trees. The species selected provide multiple benefits: locking up carbon to help tackle climate change, shading crops and protecting the soil from erosion, and providing traditional medicines, food and a source of nectar for bees.
What do you get?
Following checkout you will receive the links to download two versions of the e-card (one formatted for emailing, one for printing at home). For a printed gift card mailed either to you or the gift recipient, please choose the appropriate shipping option from your basket or checkout page. You can personalize it with a message in the shop checkout.
Delivery within the UK is free, but you may like to add an optional contribution to help us cover our costs. International delivery charges apply.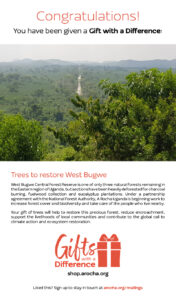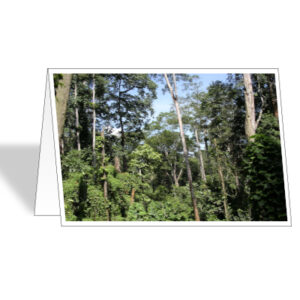 How your money will be spent