Description
In Uganda, only 37% of schools have basic handwashing facilities with water and soap both available [1]. Yet research shows that washing hands with soap is one of the most effective and inexpensive ways of reducing the risk of diseases such as diarrhoea and pneumonia, both leading causes of childhood deaths.
A Rocha Uganda is promoting the use of tippy taps in schools and households to improve hygiene and save water. This simple handwashing device is especially useful for communities without running water, and can be made with readily available materials: just sticks, a small jerrycan or plastic bottle and string.
It uses less than half the amount of water compared to handwashing directly from a tap or jerrycan and any wasted goes back into the soil. Unpredictable rainfall patterns due to climate change mean that periods of water scarcity are becoming increasingly frequent. So saving precious water resources is vital for community members and the local environment.
[1] UNICEF (2018). Scoping study of WASH in schools programming in Eastern and Southern Africa
What do you get?
Following checkout you will receive the links to download two versions of the e-card (one formatted for emailing, one for printing at home). For a printed gift card mailed either to you or the gift recipient, please choose the appropriate shipping option from your basket or checkout page. You can personalize it with a message in the shop checkout.
Delivery within the UK is free, but you may like to add an optional contribution to help us cover our costs. International delivery charges apply.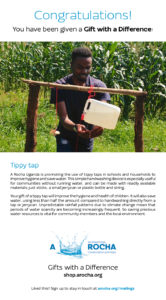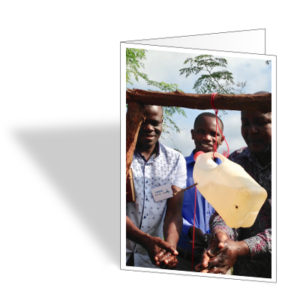 How your money will be spent