Description
Uganda's forests provide important habitats for many native plants and wildlife. They also supply clean air and water and support the livelihoods of local communities. Yet the trends over the last 25 years are concerning. Between 1990 and 2015, Uganda lost more than 3 million hectares of forest cover due to problems such as encroachment, unsustainable farming practices, urbanization and tree felling for timber, firewood and charcoal burning [1].
A Rocha Uganda is working with schools and community members to plant fruit trees like mango, orange, avocado and guava. In less than three years, these will be providing food and improving the health of local children. In the meantime, they offer numerous environmental benefits such as improving soil and water quality and creating habitats for wildlife.
[1] Ministry of Water and Environment (2016). State of Uganda's Forestry
What do you get?
Following checkout you will receive the links to download two versions of the e-card (one formatted for emailing, one for printing at home). For a printed gift card mailed either to you or the gift recipient, please choose the appropriate shipping option from your basket or checkout page. You can personalize it with a message in the shop checkout.
Delivery within the UK is free, but you may like to add an optional contribution to help us cover our costs. International delivery charges apply.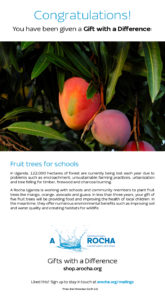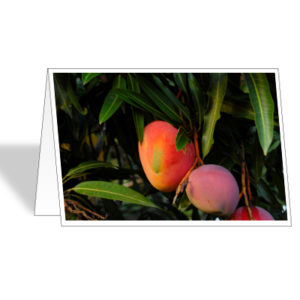 How your money will be spent