Description
Bannerghatta National Park is dry deciduous scrub forest, a key habitat for the Asian Elephant Elephas maximus. Because the park lies just outside Bangalore, the sprawling growth of that city is causing human-elephant conflict with casualties on both sides as elephants leave the forest to seek food in neighbouring farmland.
'Across India, elephants are moving into areas where they have never set foot before,' remarks Avinash Krishnan, A Rocha India's Conservation Officer. Asia is the world's most densely populated continent, so as towns and villages multiply, and former habitats become degraded, elephants are moving out in search of food, resulting in greater conflict with people.
A Rocha India runs ecology camps for local schools, organizes public talks in the city and trains new forest guards. In addition, A Rocha India has completed surveys examining agriculturalists' use of the landscape which have given a clearer understanding of the human-elephant conflict and ideas for creative ways that could help solve these issues.
In alerting members of the corporate, educational and professional communities to the plight of Bannerghatta's wildlife, A Rocha India has been central in building a community that places far greater importance on conserving the habitats that wildlife requires.
What do you get?
Following checkout you will receive the links to download two versions of the e-card (one formatted for emailing, one for printing at home). For a printed gift card mailed either to you or the gift recipient, please choose the appropriate shipping option from your basket or checkout page. You can personalize it with a message in the shop checkout.
Delivery within the UK is free, but you may like to add an optional contribution to help us cover our costs. International delivery charges apply.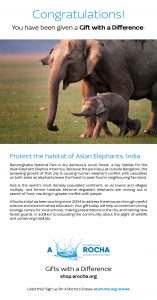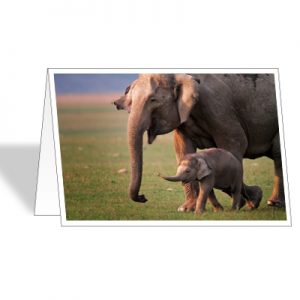 How your money will be spent