Description
Bannerghatta National Park lies just outside Bangalore, India's third largest city. The park provides critical habitat for people and nature, including Asian Elephants, Tigers, Leopards and other endangered plants and animals. Yet the sprawling growth of the city has led to increasing conflict between humans and wildlife.
Poor waste management systems around the forest villages have compounded the problem. The open disposal of organic and untreated waste attracts numerous feral animals such as domestic dogs and rats. Wormeries provide a safe alternative that improves the hygiene and sanitation of rural communities, at the same time as improving the health of the soil. The compost can also be sold to provide supplementary income for local families.
What do you get?
Following checkout you will receive the links to download two versions of the e-card (one formatted for emailing, one for printing at home). For a printed gift card mailed either to you or the gift recipient, please choose the appropriate shipping option from your basket or checkout page. You can personalize it with a message in the shop checkout.
Delivery within the UK is free, but you may like to add an optional contribution to help us cover our costs. International delivery charges apply.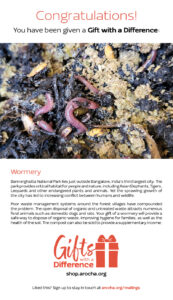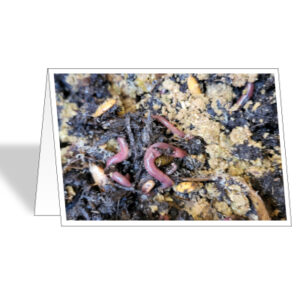 How your money will be spent