Description
Bannerghatta National Park is a protected dry deciduous scrub forest, a key habitat for the endangered Asian Elephant Elephas maximus. Today, around 40% of the park has been engulfed by the sprawling city of Bangalore. Roads cutting through the protected areas link major settlements and provide important thoroughfares for villagers. But frequent encounters with elephants crossing from one forest patch to another can result in casualties on both sides.
A Rocha India is installing elephant crossing signals to provide an early warning system to commuters. The systems consist of a pair of signal boards placed at either end of the road. When an elephant is detected crossing the road by triggering a laser fence, the signal boards start to flash, alerting commuters to the possible presence of elephants.
Your gift will help ensure the safety of people commuting on these roads and of elephants as they move between their habitats.
What do you get?
Following checkout you will receive the links to download two versions of the e-card (one formatted for emailing, one for printing at home). For a printed gift card mailed either to you or the gift recipient, please choose the appropriate shipping option from your basket or checkout page. You can personalize it with a message in the shop checkout.
Delivery within the UK is free, but you may like to add an optional contribution to help us cover our costs. International delivery charges apply.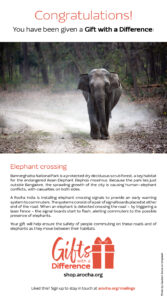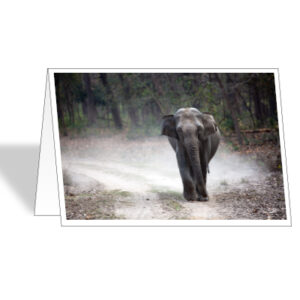 How your money will be spent