Description
A Rocha Lebanon's Qab Elias Environmental Project was designed with local residents to help counter tree loss and provide a space for children and adults to picnic, play and learn about nature. The Bekaa Valley is on one of the world's most important migratory bird flyways so restoring the woodland, in which migrating birds can feed and roost, is vital.
The project was launched in 2015 and since then the site has been planted with native trees, herbs and other plants, all labeled for students and curious visitors. A pond provides a place for birds to bathe and drink and an irrigation source for new plants. There is also a walking trail and a labyrinth, which has been planted with 200 lavender bushes, enjoyed by many bees and butterflies.
During the spring and autumn, classes from the nearby schools are brought to Qab Elias for a sensory lesson. Our local environmental education teacher, Riim Antonious, encourages the children to use their senses as they learn about common Lebanese herbs and native trees found on site.
What do you get?
Following checkout you will receive the links to download two versions of the e-card (one formatted for emailing, one for printing at home). For a printed gift card mailed either to you or the gift recipient, please choose the appropriate shipping option from your basket or checkout page. You can personalize it with a message in the shop checkout.
Delivery within the UK is free, but you may like to add an optional contribution to help us cover our costs. International delivery charges apply.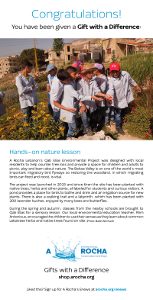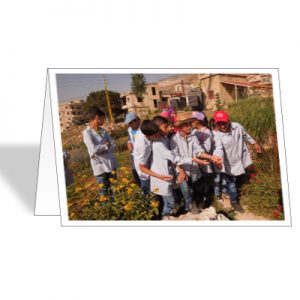 How your money will be spent